The Benefits of Using Audioenhancer.ai for Producing High-Quality Voice-Overs
But before we dive into the review of Audioenhancer.ai, it's crucial to establish why our insights can be trusted.
As a reviewer, I invested the time to test Audioenhancer.ai to provide an honest evaluation for our readers.
This hands-on experience allows me to dissect its features and performance, offering you an unbiased perspective on whether it's worth your investment.
To get to know how this audio enhancer benefits the users, you need to understand why high-quality audio matters.
High-quality audio means what listeners actually want to listen and it keeps them hooked to the content. Therefore, you need to understand that sound matters just as much as visuals.
Audioenhancer.ai helps you achieve that good audio and transform the audio experience of your content. Obtaining such top-notch audio can cost more than you might expect because of expensive equipment.
With audioenhancer.ai, there's no need for expensive equipment or a state-of-the-art studio. With just a few clicks, you can enhance your voiceovers to a professional level.
For further details on this audio enhancer, keep reading this article.
What Audioenhancer.ai is?
Audioenhancer.ai helps you create high-quality audio without the pricey equipment and a high-end studio.
This noise removal tool bridges this gap, providing a hassle-free solution to improve your audio without breaking the bank.
The audio enhancer caters to all types of content creators. Whether you're a podcaster looking to captivate your audience or a video creator aiming for top-tier content, this tool is your go-to companion.
Benefits of Audioenahncer.ai Across Different Fields
Different content creators can find something to benefit from this online tool.
For example, podcasters find Audioenhancer.ai indispensable in their creative process. Podcasts with compelling voiceovers become more enjoyable, thanks to enhanced sound quality.
Video content also needs voice-overs. When these voiceovers are run through an Audio enhancer, there is a boost in overall quality, making it more appealing to viewers.
Lastly, the simplicity of the interface and the fact that it's free of cost make Audioenhancer.ai a must-have tool for content creators of all kinds.
Audioenhancer.ai's Features: A Review
This powerful tool comes packed with features designed to take your audio to new heights. Let's take a look at some key aspects that make Audioenhancer.ai stand out:
AI Audio Enhancement
The tool works with artificial intelligence in the background. This means you get high-quality enhancement customized to your requirements.
The technology allows the tool to identify audio defects, paving the way for improvement. By denoising and enhancing audio content, the tool gives you a more pleasurable listening experience. It's like having a personal audio engineer at your fingertips.
Customized Audio Enhancement
Not all audio files are created equal, and neither are their defects. Audioenhancer.ai provides customized solutions with four distinct enhancement options:
Remove background noise
Improve overall quality
Clean up speech
Fix loudness and levels
You can select the enhancement that aligns with your specific audio challenges, and watch as Audioenhancer.ai does its work.
Upload Capacity
The audio enhancer supports an input limit of 50 MB. With an impressive input capacity of 50 MB per file and a time limit of under 5 minutes, Audioenhancer.ai offers swift and efficient sound improvement.
It takes less than a minute and your audio undergoes a transformation, demonstrating the tool's commitment to saving you time without compromising quality.
Pricing
This online noise removal tool won't cost you a dime – it's completely free.
Yes, you heard it right. You can give your videos a boost without spending a penny.
It's a fantastic deal, especially for new content creators who are keeping a close eye on their budget.
How to Improve Voice-Over Quality Using Audioenhancer.ai?
Are you dealing with unwanted background noise in your audio recordings? Whether you're polishing up a podcast, or perfecting a video, you need good-quality voiceovers for both of these.
The AI Audio Enhancer is the go-to online tool designed to effortlessly reduce background noise, making these voiceovers shine.
Step 1: Upload Your File
It all starts with a simple click. Upload your audio file to the designated box. No rocket science here – just find your file, click upload, and let the audio enhancement begin.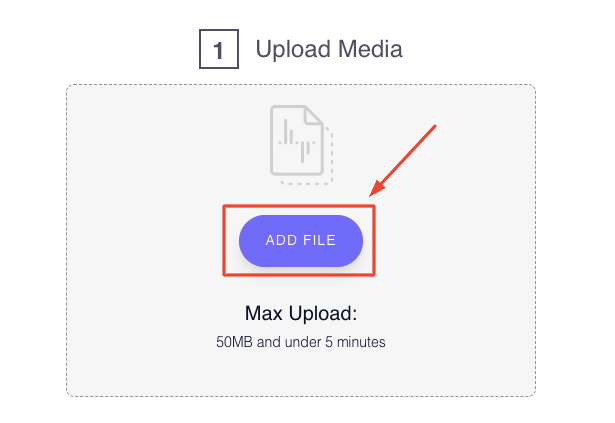 Step 2: Remove Noise
Once your file is uploaded, you're just a step away from a cleaner, crisper sound. Select the type of enhancement you want in your voiceover. For example, I selected the 'Remove the background noise'.
Hit the "Enhance Media" button and let the audio enhancer start the improvement.
No need to stress about complicated settings or technical mumbo-jumbo – the tool's makers have kept it straightforward for you.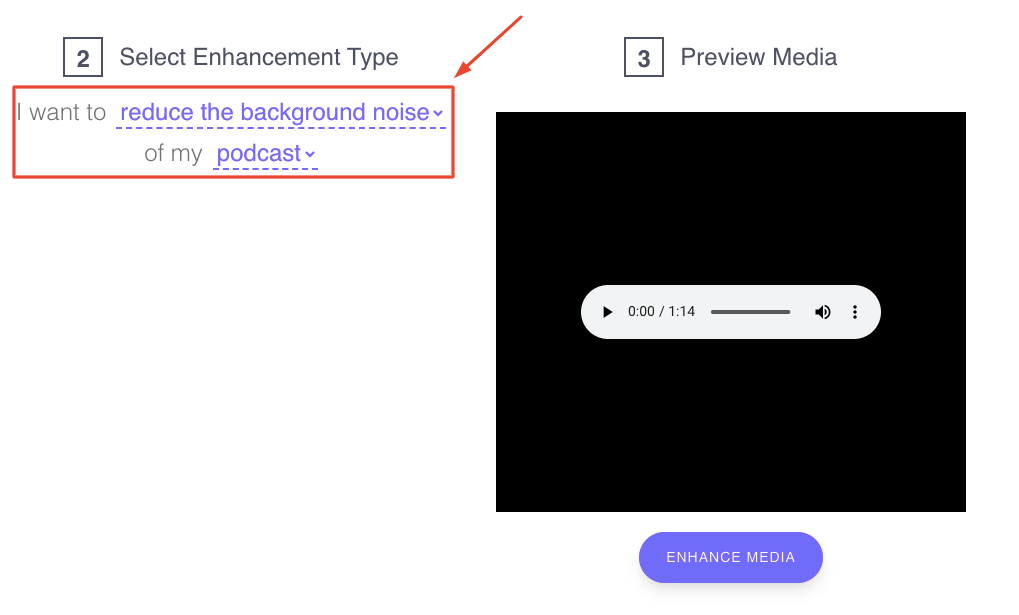 Step 3: Download Your Audio
Your enhanced audio will be ready in a minute. Click "Download Audio" to grab your file, now free from the clutches of background noise. It's that easy – no fancy maneuvers, no complex procedures. Just a few clicks, and you've transformed your audio.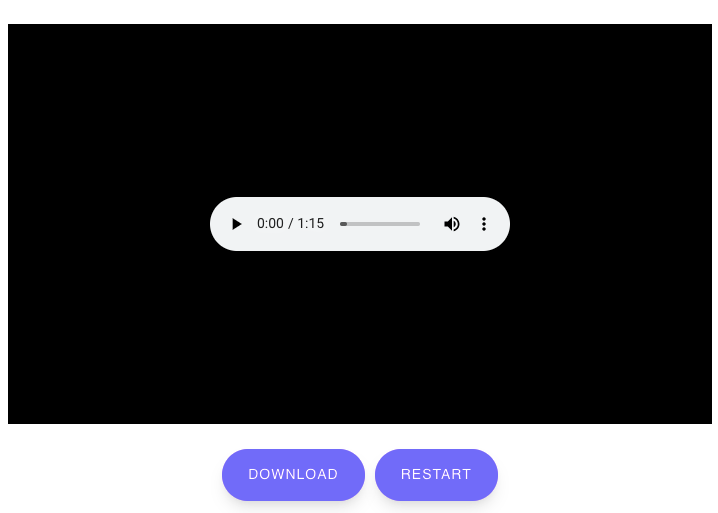 Why Choose Audioenhancer.ai?
✔️ User-Friendly Interface: This noise removal tool requires no tech wizardry. The interface is designed for everyone, from beginners to pros. Just follow the simple steps, and you're on your way to better audio.
✔️ Efficient Noise Removal: The AI isn't just smart; it's a noise-fighting technology. You can remove distracting background sounds without breaking a sweat.
✔️ Quick Results: Time is precious and keeping that in mind, the tool works swiftly. In a matter of moments, you'll have audio that's cleaner and clearer.
✔️ Free of Cost Availability: Your top reason to choose this online Audio enhancer is its free-of-cost availability. There is no need to download any software, just go to the website and enhance the content.
Conclusion
With the surge of audio-video content on the internet, audio quality matters more than ever. Audioenhancer.ai emerges as a user-friendly, efficient, and cost-effective solution.
Whether you're a podcaster, video creator, or content enthusiast, this tool empowers you to enhance your audio voiceovers effortlessly.
Now, there is no need to buy complicated voice recording equipment as Audioenhancer.ai takes care of the superior sound, and that too free of cost.